On 25th May 2013, DONG HANH Program held a Fundraising Concert called "From Europe to Asia" (De l'Europe à l'Asie), with the participation of many professional pianists and flautists.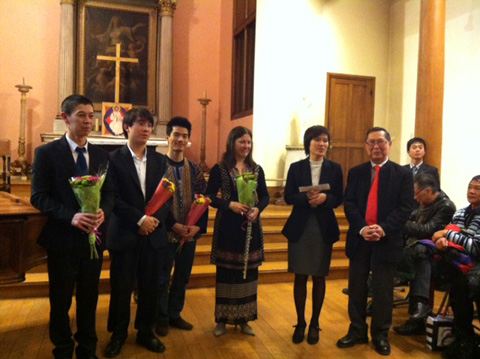 Flowers for the artists participating in the concert.
It was the third time that DONG HANH Program had organized a benefit concert to raise money for their scholarships. This idea came from the family of Mr. Can Van Kiet, especially from his son Mr. Can Vu Ngoc, a famous pianist. Both of them are members of the General Union of Vietnamese in France (UEVF). This event was supported by these two men and their colleagues, as well as by Mr. Odon Vallet, Professor at Paris Sorbonne University, one of the main sponsors of DONG HANH Scholarship.
The concert attracted many members from the Vietnamese Embassy and Vietnamese Associations, as well as a crowd of French friends, Vietnamese expatriates and Vietnamese students in France. Hosted by two pianists (Can Vu Ngoc and Tran Phuong Nam) and a modern flautist (Isabelle Hureau), this musical evening featured favorite works by Bach, Chopin, Debussy Claude, Haydn Joseph, Robert Schumann, etc. Also, the audiences had a chance to enjoy Vietnamese traditional folk rhythms performed by Mai Thanh Nam, a musical student from the Musical School of Meudon. These performances made a vivid impression on every audience. These artists received standing ovations for their flawless performances.
Isabelle Hureau, a modern flautist, a musical teacher from a French musical school in the suburbs of Paris, expressed her strong emotion and satisfaction when participating in such an event. It was the second time that she had joined in a cultural volunteer activity to help Vietnamese students. She was also the coordinator of this European-Asian musical event.
Doan Nguyen Nhut, president of DONG HANH Program declared that the event was to raise money for DONG HANH Scholarship, whose mission is to provide poor students in 12 universities in Vietnam with financial assistance. Those 12 universities are all specialized in Science and Technology in Hanoi, Ho Chi Minh City, Danang, and Vinh. Money from selling tickets to this concert would contribute to those scholarships. Each scholarship is worth about 3 millions VND. In the academic year of 2011-2012, there were 250 scholarships offered by DONG HANH Program. Founded in 2001 by six students from the School of Polytechnique in France, DONG HANH has awarded thousands of scholarships to outstanding, hardworking and well-deserving students in Vietnam over the past 10 years. Despite all difficulties, their ambition is to become one of the biggest student-to-student scholarship foundations in the world.
Lê Hà – Nguyễn Tuyên
Source: baotintuc.vn (Some inaccurate information has been modified)
,
Some images from the fundraising concert
[nggallery id=15]